Rootbound Collaborating Artists
Ian Robb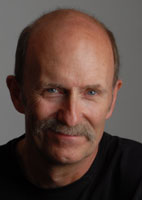 Ian Robb is, as he puts it, "a singer and occasional writer of old songs." The England-born singer, concertina player, morris dancer and traditional music advocate has lived 43 years in Canada, and for the last 22 of those has been one third of the internationally acclaimed vocal harmony trio, "Finest Kind". He is also a charter member of Toronto's venerable and outrageous folk mob, "The Friends of Fiddler's Green", now in its 42nd year.
Ian's roots are in the English folk club scene of the 1960s, where he found the ability to project his voice across a smoky bar, and developed a love for the old songs of that country and for "new songs that sound old". Ian has also been an active member of Thames Valley Morris (now "Thames Valley International") since the 1980s.
---
Amelia Mason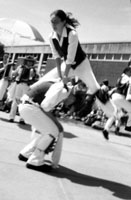 Amelia is a New England native descended from a long line of morris dancers and troublemakers. Schooled in a variety of Celtic and American styles, she has developed a highly rhythmic and thoroughly original flavor of New England fiddling. Her favorite morris tradition is Ducklington.
---
Eric McDonald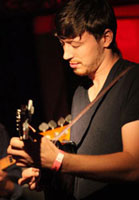 Eric McDonald is one of Boston's premier acoustic performers and instructors. Born and raised in the area, he grew up steeped in Beantown's vibrant music scene. He has studied with some of the nation's best players, including local sideman Sean Staples and mandolin phenom Joe Walsh. Eric studied at Berklee College of Music under the tutelage of John McGann, Eugene Friesen and many other world class musicians. Eric is now building a reputation for being a fine instructor himself, teaching workshops and lessons privately, at camps during the summer and at the Passim School of Music in Cambridge. Known for his tasteful approach and quick ear, Eric continues to bring his music to new places, most recently overseas to England and Scotland.
---
Emily Troll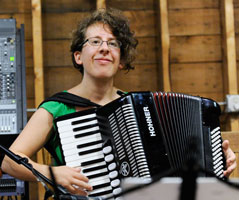 Emily has been playing fiddle and accordion at contra dances for over a decade, inspiring dancers to kick up their heels and whoop and holler. A self-proclaimed "texture monster," she enjoys collaborating, improvising and building new sounds. Her favorite morris tradition is watching.
---
Susan Cooper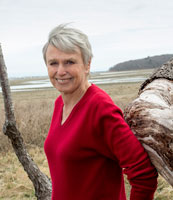 Susan Cooper wrote verse and plays for the Revels for 20 years, and later a book about its founder John Langstaff called The Magic Maker. Among her novels and screenplays, the best known is the classic fantasy sequence The Dark Is Rising.
---